Les Vedettes de l'Ile de Batz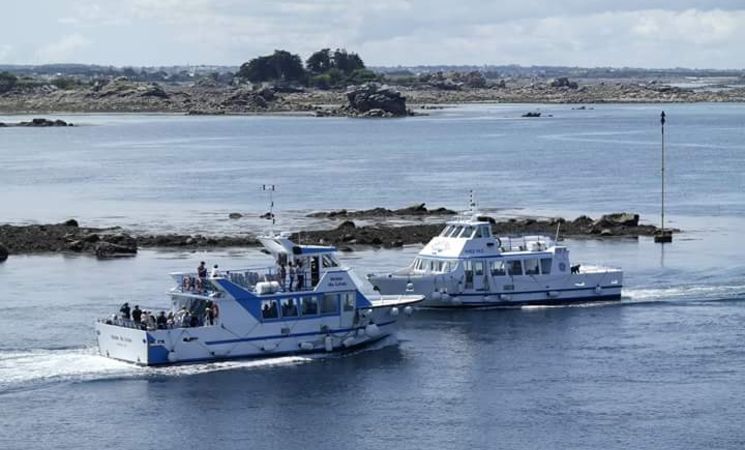 Ferry links between Roscoff and the Île de Batz (15 minutes) all-year-round, no booking required for individuals however bookings required for groups over 20 persons.
Trips in the Baie de Morlaix : Departure from the ports of Carantec, Plougasnou, Morlaix, Moguériec Saint-Pol-de-Léon. Boat tours adapted to your needs and interests! Weddings, baptisms, or communions! Baie de Morlaix (2 hours): Explore a rich heritage around the Château du Taureau, the Île Louët, Île Noire and Île Callot and the ornithological reserve. The Château du Taureau (3h including the visit of the Baie de Morlaix), with guided tour of the castle (1h). Tour around the Île de Batz (1h15), learn about the nautical charts, the legends, and the way of life of islander people. Navigate upstream or downstream Morlaix River (2h30) and observe beautiful mansions and castles built along the riverbank (visit of the Baie de Morlaix included). The wild coast of Moguériec (1h15). Guy will tell you stories about seamen and the inhabitants living on this coast shaped with unique giant boulders such as "The Gilt" or "The Monkey". Take part to famous sailing racecourse departures: "Trans-Manche", "Figaro", "Route du rhum" and "The Armada of Brest". For the above boat tours: Bookings required for groups and individuals with the ferry company.
Spoken languages : French
Prices
Tarif adulte Plein tarif
Children's rate
Children's rate
Tarif adulte Plein tarif
Children's rate
Children's rate
Location
Nearby