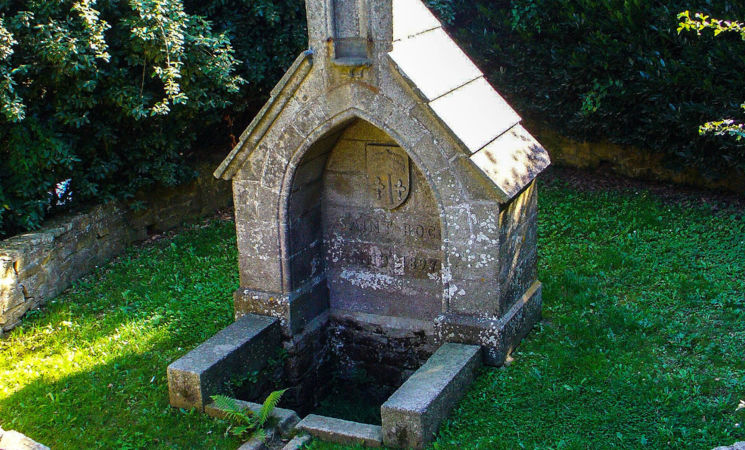 The fountain of Saint Roch was rebuilt in 1897, when the road between the station and the park of the Château de Kernévez was completed.
The foutain is decorated with the coat of arms of the Budes family "Argent with pine Vert, bears two fleur-de-lys flowers Gules". It carries the motto "superis victoria faustis". The statue of the Saint has disappeared.
The granite structure is built on a marshy site on the outskirts of the town and reminds us of the close association with Saint-Roch, saint patron of plague victims. In fact, the town was hit many times by various plage epidemics during Middle Ages. A "Lazar House" in reality a village of small thatched cottages, sheltered in this area victims of the plague, lepers and other pariahs like they "cacous" who came from Spain. They were forbidden any profession apart from that of rope-maker. They wove ropes for the bells from the neighbouring chapels and they also had to provide the ropes used for… the execution of criminals.
A chapel was built here in 1632, it no longer exists today. It was called the Saint-Roch chapel but was also known in this area as the "Magdeleine", so that it could receive the prayers of sick people. The chapel figures in perspective in the painting of the Rosary in the cathedral.
Location
Nearby