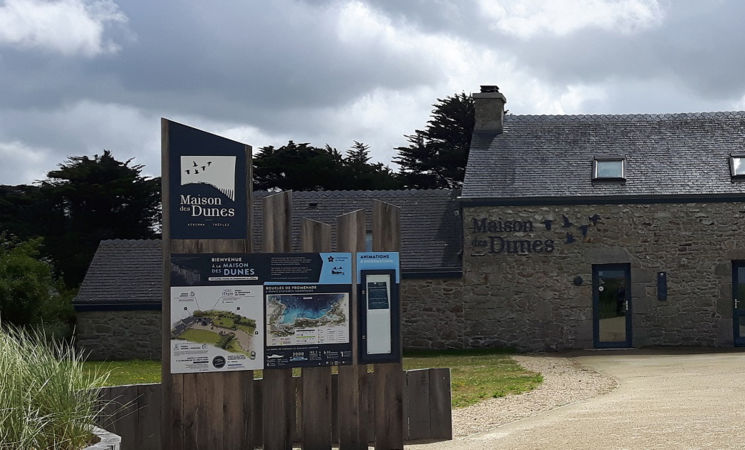 "La Maison des Dunes" proposes various activities to discover the Keremma Dunes.
The immersive and playful Discovery Centre "TEVENN, du sable, des dunes, des hommes" will immerse you in a world of sand, teach you the life of dunes and will tell you the story of the local countrymen. There is a large choice of guided walks, morning and night storytelling walks to enrich your visit and learn more about the dune system, the foreshore, seaweeds, birds… Dare you treasure hunt for the secret landscape stone Roc'h Goz'h? An adventurous treasure hunt for family and friends on the Keremma Dunes. To unveil the mystery, you must solve 9 puzzles, open nine secret chests to find the old stone Roc'h Goz'h. You will discover its legend and be rewarded with a piece of the hidden treasure! So hurry-up and get the family-friendly adventure kit either at "La Maison des Dunes" or at the Tourist Information Centre in the region and come and experience an unforgettable adventure! Estimated duration of the game: 3-4 hours.
Information desk – shop – picnic area – Discovery Centre open during Easter Holidays, July, August and October mid-term
holidays.
Interpretative Trail and Roc'h Gozh treasure hunt accessible all-year-round.
Prices
Base rate – full rate adult
Location
Nearby