Grain de Sail - Chocolaterie
1 – the birth of the grain de Sail adventure
Founded in Morlaix, Brittany by two twin brothers, experts in renewable energy, Grain de Sail was created in 2012. The company was launched with the idea of selecting, producing and selling quality products with high added value in order to finance the construction of a cargo sailboat capable of transporting raw materials from one side of the Atlantic to the other in a more environmentally friendly manner.
2 – Chocolate and coffee production
In 2013, we first opened a coffee roasting workshop, followed by a chocolate factory in 2016. Sales of our products in shops accelerated and we soon had several hundred points of sale. The range of chocolates and coffees is expanding, our company is growing and the project of a cargo sailboat is becoming a reality.
3 – The construction of our cargo ship
In October 2018, we signed the contract to build our first cargo sailboat. Almost 2 years later, the ship leaves the shipyard in the Nantes region and makes its first transatlantic crossing in November 2020. An adventure as extraordinary as it is complex, which makes Grain de Sail the owner of a modern cargo sailboat unique in the world.
The crew
Because we are aware of the richness of our products, we leave them in the best hands. Grain de Sail is an adventure of men and women, on land and at sea, who all share the same values and the same vision of their work: to transport carbon-free goods between Europe and the Americas. Our main common point: passion!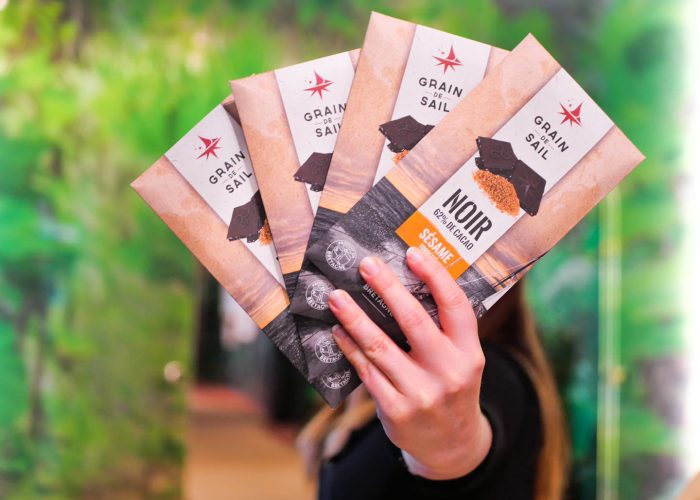 Open from Tuesday to Saturday (excluding public holidays)
The production department does not run on Saturdays, videos will allow you to see the machines in operation.
Shops :
Tuesday to Saturday from 9.30am to 6.30pm
Gallery :
Tuesday to Saturday from 9.30am to 5.30pm (last access for closing at 6.30pm)
Duration of the activity 1 hour approximately
3€ for adults
Free for children under 8 years old
Workshop :
Tuesday to Saturday*
Hourly slots:
Morning: 9:30 / 10:30 / 11:30
Afternoon: 2pm / 3pm / 4pm
10€ for adults
6,50€ for children under 8 (from 5 years old)
Customise tablets with your own inclusions
Wearing a mask is compulsory for hygiene reasons
Duration of the activity: about 1h30 (including the visit of the gallery)