Penn ar Bed Shipping Company
Sea crossings to Ouessant, Molène et Sein

Penn ar Bed Shipping Company
Discover the magic of the islands of the Iroise Sea:
Daily connections to Ouessant, Molène and Sein
98% satisfied customers – departures 7 days a week
Every day, all year round, board one of our 6 spacious and comfortable ships in complete safety. Summer and winter alike, they take to the sea and embark you via the ports of Brest, Le Conquet, Audierne and Camaret to Ouessant Molène and Sein.
Come aboard with our crews and let yourself be transported to the end of the world, in the heart of the Iroise Sea Biosphere Reserve.
In July and August, guided crossings are offered by the Iroise Marine Park staff. Birds and marine mammals, lighthouses at sea, flora, landscapes, travel to the heart of the Iroise Sea Islands Biosphere Reserve!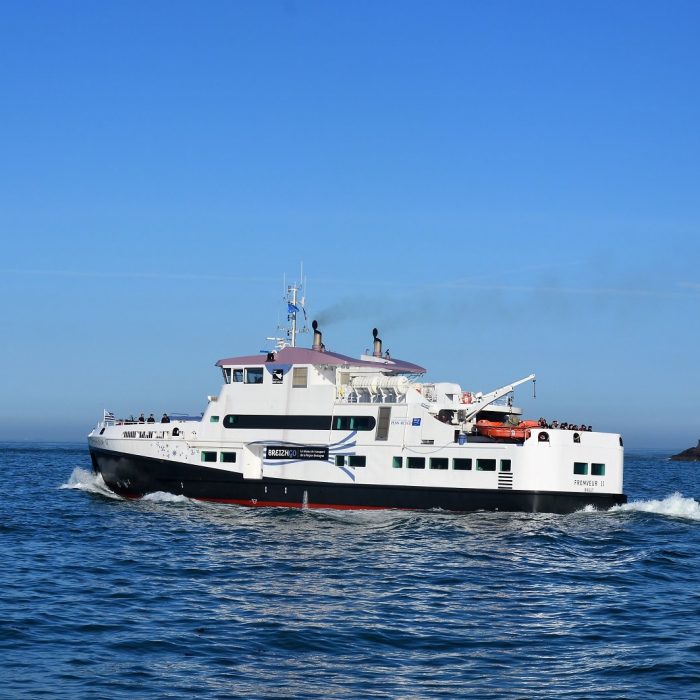 Ouessant: from the grandiose landscapes of the north coast to the gentle south of the island, discover Ouessant's unspoilt nature and preserved heritage. Traditional houses, flowery moors and steep coasts, savour the beauty of this land at the end of the world.

Molène: halfway between Le Conquet and Ouessant, Molène will surprise you with the beauty of its archipelago and its transparent turquoise waters. An astonishing and endearing island with an incomparable welcome from its 210 inhabitants.

Sein: A wild and preserved nature, the island of Sein will make you appreciate the charm of its narrow streets and its coloured houses squeezed along the quays. Your day will be unforgettable if, during the crossing, the many dolphins that are used to the island come and play in the bow of the ship!
Bookings can be made at your tourist offices in Plouescat, St-Pol-de-Léon, Roscoff and Guimiliau (Pays de Landivisiau)