in Le Cloître Saint-Thégonnec

Through its permanent and temporary exhibitions, the Musée du Loup introduces you to the wolf in all its facets, from the biology of the wolf, from the grey wolf of Brittany to the white arctic wolf, to the behaviour of the wolf, the organisation of the pack, its diet, its hunting practices and its territory.
The disappearance of the wolf, from hunting to the evolution of the landscape. The wolf and biodiversity – its place in Europe, its status, the challenges of its current presence in France.
The representations and imagery of the wolf throughout the world and the ages.
Throughout the year, we offer a variety of activities for different audiences, for groups (children and adults) and also for individuals.
The Musée du Loup has a shop. It is accessible during the museum's opening days and times or by appointment. It is entirely dedicated to the wolf and offers many books for all ages as well as souvenir items (plush toys, key rings, figurines, puppets, magnets, mugs, snow globes, pencils, pens, notebooks, bookmarks, T-shirts, etc.).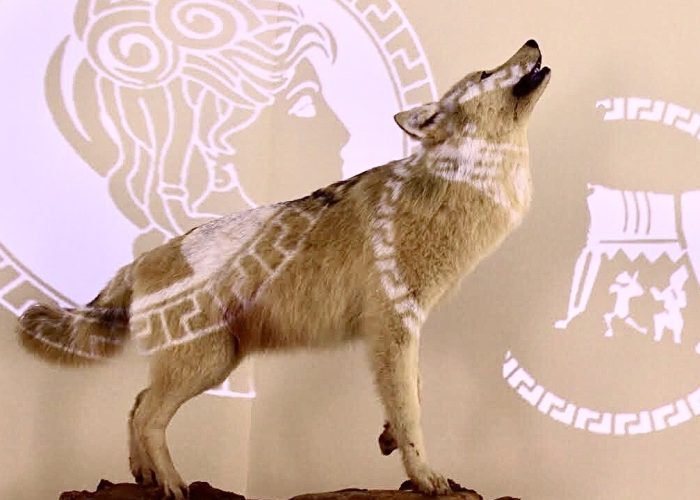 The museum is open for groups by reservation.
Sundays from mid-April to the beginning of November from 2pm to 6pm.
During school holidays (zone B) from 2pm to 6pm. (days depending on the activities)
July/August: every day from 2pm to 6pm
Prices – free visit :
Adults: 4.50 euros
Children (7 to 11 years old): 3.50 euros
Children (under 7): free
Prices – guided tour (programmed by the museum) :
Adults (from 12 years old): 5 euros
Children: 4 euros
For groups:
Guided tours for groups can be arranged all year round by reservation.
For small groups of less than 10 people wishing to visit the museum outside the museum's scheduled opening days and times, there are two packages: 42.00 euros for a self-guided tour and 47.00 euros for a guided tour. By reservation only.
Please note! The Musée du Loup is located in Le Cloître-Saint-Thégonnec and not in Saint-Thégonnec.
Only guide dogs or assistance dogs are allowed in the museum.